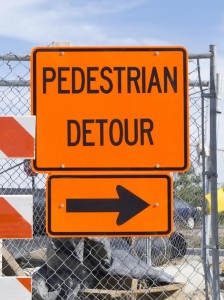 When it comes to construction in Manassas, Virginia, safety is always a concern. Falling debris, large equipment, and all of the other chaos around a work zone make these areas incredibly dangerous for workers, let alone civilians. This is why temporary fencing around construction sites is a must. It's also the law. These fences are required under federal and state laws to help protect the public as well as construction workers. The consequences of not having temporary fencing – or the right temporary fencing – can not only expose your company to legal sanctions, but also liability issues if a worker or civilian is injured.
Temporary fencing is also a proven deterrent to theft, vandalism, wandering animals, and more.
Temporary Fencing Installation in Manassas
Temporary fencing should be stable and secure, and able to withstand wind force and other strong weather conditions. For these reasons, these fences should be secured to the ground to prevent failures.
Temporary fence can be rented or purchased depending on the specific application.
Weather you require temporary fence panels on block, in-ground chain link, privacy fence, or plywood fence, Hercules Fence can handle the job. Now the largest fencing company in Northern Virginia, Hercules Fence has been providing professional fence installation – both residential and commercial – and temporary fencing throughout Manassas since 1955. Over the years, we've developed a reputation for quality work and fare, competitive prices.
Click Here to request a quote!
Temporary fencing is easy and cost effective. There is no need to dig. There is no need to permanently change the surrounding landscape. Temporary fencing can go up quick and give you the peace of mind you need. And the consequences of not having temporary fencing could potentially handicap the entire construction project. So do the right thing and call Hercules Fence to ensure your project, your workers, and the general public are all safe.
Work and construction sites are required by law to have temporary fencing set up. State laws regarding temporary fencing at construction sites vary from state to state.
Interested in learning more about Temporary Fencing installation? Please contact Hercules Fence of Manassas, Virginia by calling (703) 551-2609 or visiting our website. You can also follow Hercules Fence on Facebook, Twitter, Google+ and YouTube!