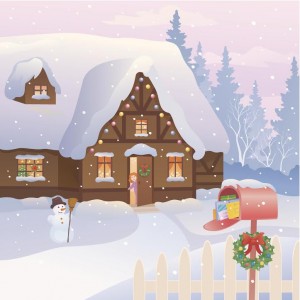 Winter is right around the corner. The days have grown shorter and the temperature has noticeable dropped. Brrrrr! Before you know it, Jack Frost will be nipping at your nose. But it's not your nose you are worried about. You want to know how the cold winter weather in Northern Virginia will affect your new Vinyl Fence.
Will My Vinyl Fence Stand Up to Another Northern Virginia Winter?
It is true that vinyl fencing stands up to moisture and the elements better than wood fencing. But that doesn't mean your new vinyl fence is immune to the rigors of another Northern Virginia winter. And it is going to be a cold one. Both the Farmer's Almanac and climate experts at the National Oceanic and Atmospheric Administration are predicting colder than normal and wetter than normal winter. The culprit: the polar vortex.
"The polar vortex is a large pocket of very cold air, typically the coldest air in the Northern Hemisphere, which sits over the polar region," explained Alex Sosnowski, AccuWeather.com Senior Meteorologist. "Occasionally, this pocket of very cold air can get dislodged farther south than normal, leading to cold outbreaks in Canada and the U.S."
"Temperatures will plunge to 20 degrees below average in parts of the South," added Paul Pastelok, AccuWeather.com Long Range Expert.
So what does this mean for your vinyl fence? Well, when vinyl becomes extremely cold, it becomes less flexible. This leaves your fence vulnerable. Because it is more rigid in cold temperatures, your vinyl fence can more easily sustain damage from a hard impact. To prevent this from happening, there are several things you can do, including:
1.      Trim overhanging tree branches. When tree limbs are burdened with the additional weight of snow and ice they can snap, damaging your fence below. By trimming branches back before winter you can avoid such damage.
Talk to your children. Children love jumping fences. They also like to use them as backstops for baseball, goals for soccer, and…well, any number of other things. Talk to your children about what is and isn't appropriate fence behavior.
Vinyl Fence Installation in Northern Virginia
Since 1955, Hercules Fence has been providing professional vinyl fence installation and services throughout Northern Virginia. And as the state's largest fencing company, Hercules Fence is able to offer premium quality fencing products without the premium price tag. So tell us again why you would go with anyone else?
Click Here to request a quote today!
With over 50 years in the fence business, Hercules Fence knows a thing or two about fencing. Please take a moment to view our many residential and commercial fencing options. If you have any questions, do not hesitate to give us a call. Our helpful sales team is here for you
Why would you trust anyone else with your Vinyl Fence Installation? Please contact Hercules Fence of Manassas, Virginia by calling (703) 551-2609 or visiting our website. You can also follow Hercules Fence on Facebook, Twitter, Google+ and YouTube!