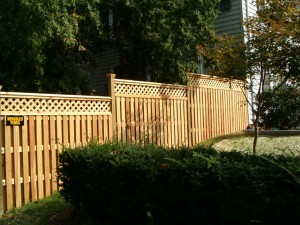 Wood fencing has many benefits: curb appeal, security, privacy and more. But wood fencing also has one weakness: moisture. If your wood fence was Superman, moisture would be its Kryptonite. In layman's terms, moisture and wood just do not get along. In fact, constant (or frequent) exposure to moisture can weaken your fence and lead to structural failures, especially if the fence is not properly protected.
Protecting Your Wood Fence from Old Man Winter
Inspection and Repairs
Walk up and down your fence, looking for any signs of wood rot or other damage. If you notice any issues, correct them as soon as possible. This will help prevent small issues from snowballing into larger (more expensive) repairs. Your wallet will thank you.
Staining
Staining your fence every few years is one of the best things you can do to prolong its life. This will help protect the wood from the damaging effects of moisture: rain, sleet, and snow.
Cleaning
Before staining (or painting), be sure to thoroughly clean your fence. This can be done using a power washer. Just be sure to keep your distance so you do not damage the wood. Power washer are…well, powerful.
Tree Branches
While they may seem harmless, overhanging tree branches pose a threat. With the added weight of snow and ice during the winter, these branches could snap and damage your fence. This is why it is a good idea to trim overhanging branches before winter.
Woof Fence Installation in Northern Virginia
Over the past 50 years, Hercules Fence has developed a strong reputation for professional service and quality wood fence installation. We are here to answer any questions you may have and help you choose the best fence for your wants, needs, and, perhaps most importantly, your budget. Perhaps best of all, we are the largest fence company based in Northern Virginia, affording us the luxury of purchasing the fence you want at a price you will love. That's what we like to call a win-win!
Click Here to request a FREE quote today!
Interested in a New Wood Fence? Please contact Hercules Fence of Manassas, Virginia by calling (703) 551-2609 or visiting our website. You can also follow Hercules Fence on Facebook, Twitter, Google+ and YouTube!