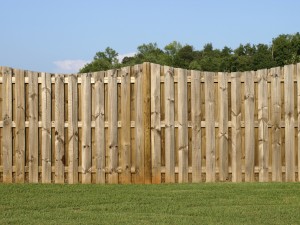 It's too much maintenance, they said. You won't have enough time, they said. Well, they are half right. You don't have enough time…to listen to the naysayers. You have always dreamed of having a beautiful Wood Fence around your yard. So don't let a little maintenance and a few naysayers get in your way. Go for your dreams!
Wood Fence Builders in Manassas
Over the past 50 years, Hercules Fence has developed a strong reputation for professional service and quality fence installation. Best of all, we are the largest fence company based in Northern Virginia, affording us the luxury of purchasing the fence you want at a price you will love. That's what we like to call a win-win!
Click Here to request a FREE quote today!
We are here to answer any questions you may have and help you choose the best fence for your wants, needs, and, perhaps most importantly, your budget.
Wood Fence Benefits
Wood fences are a classic, giving your home a unique look and feel, but these fences do require annual maintenance – cleaning, painting, and staining – so they aren't for everyone. But if you are not deterred by a little manual labor, the benefits of these fences are numerous. Just take a look…
Improved Curb Appeal
Wood fences look good. Period. End of story. A wood fence will instantly add to your home's curb appeal. This is great while you own the home, but will be even more beneficial when you finally decide to sell. Improved curb appeal not only makes your home easier to sell, but also increases your home's resale value by as much as 15-20%.
Improved Security
There are roughly 900 property crimes in Manassas annually, including 111 burglaries, 741 thefts, and 48 auto thefts. A wood fence in an excellent crime deterrent. These fences are not easy to scale, which will leave potential burglars searching for an easier target.
Increased Privacy
As the old saying goes, good fences make good neighbors. This is especially true if you value your privacy. A wood fence will keep prying eyes away, giving your privacy in the most aesthetically pleasing way possible.
And More!
Interested in a New Wood Fence? Please contact Hercules Fence of Manassas, Virginia by calling (703) 551-2609 or visiting our website. You can also follow Hercules Fence on Facebook, Twitter, Google+ and YouTube!