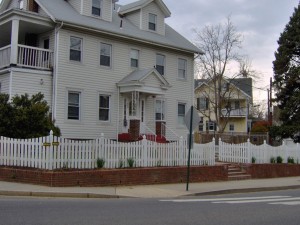 Those who live in Manassas, Virginia know it is a great place to live. And people are taking notice. In fact, the median sales price for homes in Manassas has increased 1.7% (or $5,000) since last year. Still, the number of actual home sales decreased by a shocking 23.5%. Yikes! So how can you make sure your home not only sells quickly, but also for a good price? Home Improvement, of course!
A Residential Fence Can Improve the Value of Your Mansassas Home
Increase Home Value
While a new residential fence may not boast a return on investment (ROI) as high as other home improvement projects, such as kitchen or bathroom remodeling, at a 50% ROI, fencing is nothing to scoff at. Hello, increased home value!
Help Your Home Sell
In today's market, even the best houses sit on the market for weeks, months, or sometimes years. Yikes! Fortunately, there are several things you can do to help make your home more attractive to potential homebuyers. And the first thing is…make your home more attractive. Period.
Repairing or replacing an old dilapidated fence can really overhaul the curb appeal of your home. Conversely, if you ignore that old, dilapidated fence, it could detract from the appeal of your property, making it more difficult to sell.
10% of potential homebuyers cannot see the potential of a home. What they see is ALL they see. Even if your home has potential, an old fence could cause your home to stay on the market longer than it should.
Homebuyers make up their minds within the first 30 seconds after they first see a home. First impressions (curb appeal) matter. Sorry, mom! Despite being taught at a young age to never judge a book by its cover, that is exactly what home buyers do each and every day. They will make up their minds before even setting foot inside a home.
85% of homebuyers will view your home online to decide if it is worth visiting in person. If your home doesn't make a good first impression, potential home buyers won't even bother coming to see it in person.
Mansassas Residential Fence Company
As Northern Virginia's largest fencing company, Hercules Fence is able to offer premium quality fencing products with the premium price tag. That's a win-win if we've ever heard of one! Click Here to request a quote today!
Since 1955, Hercules Fence has been providing professional fence installation and services throughout the state. Please take a moment to view our many residential and commercial fencing options.
With over 50 years in the fence business, Hercules Fence knows a thing or two about fencing!
Why would you trust anyone else with your Residential Fence Installation? Please contact Hercules Fence of Manassas, Virginia by calling (703) 551-2609 or visiting our website. You can also follow Hercules Fence on Facebook, Twitter, Google+ and YouTube!