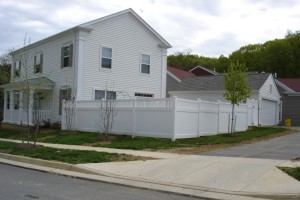 It is an exciting feeling; going to adopt a puppy. These animals are scientifically proven to give you a warm, fuzzy feeling inside and boost endorphins. Some colleges are actually known for bringing puppies onto campus during finals so that students can play with them and feel happier that week. The only thing about puppies, though, is they love to run around! They also love to run outside of the house and go down the street smelling anything and everything they can. You will need a fence for your sweet pup to prevent him from getting lost. Below are a few types of fences to choose from to allow your pet to roam freely around the yard.
Chain Link Fencing
This type of fence is very common, and kennels often use the material for the dog cages inside. You may find a chain link fence outside of the building around the perimeter as well.  Chain link fencing does not obstruct the view to the street, which could be a good thing for you but bad thing for your pet. If your dog is more aggressive in regards to barking at passerby, a solid fence is a better option.
Wood fencing
A lovely picket fence wrapped around the yard will not only be eye-pleasing, it will be a good type of fence to keep your wandering dog inside your property. If the fence is about six feet high, it prevents him from jumping over it. Wood fences may be prohibited by zoning laws, so make sure you check those out in your area before installing one. Wood is strong and study, giving you the confidence that the fence will hold up for many years. We do not recommend having a split-rail fence, because they are open in the center. Although it looks nice and would be good for horses, a dog would easily be able to hop through the gap.
Aluminum or Steel Fencing
Aluminum fences do not require a lot of maintenance. If the weather has been especially bad, the fence coating can start to rust. It is important to keep up with what little maintenance is required so your puppy does not get sick from licking any part of the fence. A stiff metal brush can be used to wipe away any rust that accumulates on a steel fence.
Any of these fencing choices would be good options for keeping your dog in sight. Why would you trust anyone else with your Fence Installation? Please contact Hercules Fence of Manassas, Virginia by calling (703) 551-2609 or visiting our website. You can also follow Hercules Fence on Facebook,Twitter, Google+ and YouTube!