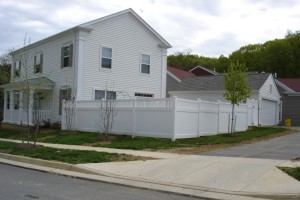 If you live in Northern Virginia and are interested in Residential Fences, you have come to the right place. Hercules Fence has been providing professional service and quality installation for Northern Virginia residents since 1955. We pride ourselves in installing high quality fences at affordable prices. As Virginia's largest fence company, we are able to buy the fence you want at a price you will love.
So you know where you are going to get your fence, now you just have to determine what fence makes the most sense for you and your home: wood, vinyl, steel, aluminum, or chain link. Each type of fence has its advantages. Luckily, we have done all of the research for you. Just take a look at some of our previous blog posts.
Northern Virginia Residential Fences
Still can't decide? Call Hercules Fence. When you call today, a trained salesperson will listen to your wants and needs and explain what products are right for you, your home, and, most importantly, your budget. With over 50 years in the fence business, Hercules Fence knows a thing or two about fences of all shapes, sizes, and materials.
If you have any questions about Northern Virginia Residential Fences, please contact Hercules Fence of Manassas, Virginia today by calling (703)551-2609 or visiting our website. Also, check out Hercules Fence of Manassas on Facebook,Twitter, Google+ and YouTube!