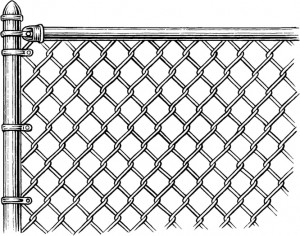 When it comes to residential fencing, chain link fences tend to be regarded as the ugly duckling of the group. But we all know how that story ends right? The ugly duckling turns out to be a beautiful swan. And chain link fences are actually beautiful (and functional) fences.
Ignore the Critics; Chain Link Fences Make Sense!
Looked down upon by many homeowners as "cheap," chain link fences are actually incredibly beneficial for several reasons:
Chain Link Fences Are Affordable
One of the biggest reasons you will love your new chain link fence is its affordability. These fences are sure to fit your budget while still providing all of the benefits you need.
Chain Link Fences Are Durable
These fences are built to last and require very little maintenance. That's what we like to call a win-win! Chain link can take a beating, making them perfect for homes with dogs and small children. These fences do their job and stand up to the constant jumping and other abusive behavior your dog (and child) can throw at them.
Chain Link Fences Improve Security
There are roughly 900 property crimes in Manassas annually, including 111 burglaries, 741 thefts, and 48 auto thefts. A new chain link fence is an excellent way to improve your home's security.
Chain Link Can Be Aesthetically Appealing
High quality chain link fencing can be aesthetically appealing when installed correctly. Plus, if you add vinyl slats, these fences can also provide the privacy you so desperately desire.
And So Much More!
Northern Virginia Chain Link Fences
As Virginia's largest fencing company, Hercules Fence knows a thing or two about fences. And we know a new fence can be a daunting financial commitment. Fortunately, being Virginia's largest fencing company has its benefits. Hercules Fence is able to buy our fencing products at a price that will afford you value to complement our quality. That's what we like to call a win-win.
Please take a moment to browse our many residential fence offerings.
Why would you trust anyone else with your Fence Installation? Please contact Hercules Fence of Manassas, Virginia by calling (703) 551-2609 or visiting our website. You can also follow Hercules Fence on Facebook, Twitter, Google+ and YouTube!