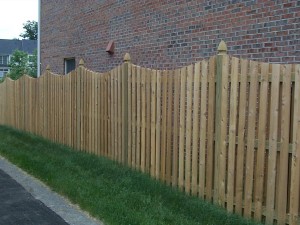 A new wood fence looks great. Period. There is just something about a new wood fence that other styles of fence, like aluminum, chain link, and vinyl, cannot match. Wood has always been and probably will always be the king of the fencing world. But there is one problem with wood fences: maintenance. How long will it take for your new wood fence to begin to fade and show its age? Well, if it is not properly maintained, it will not look good for long. But don't panic! Fence maintenance is not as hard as you may think.
Extending the Life of your Wood Fence in Northern Virginia
Cleaning and Pressure Washing: One of the easiest, yet most neglected ways to maintain your fence is to clean and power wash it annually. Fences get dirty. And dirt can actually harm your wooden fence if not dealt with in a timely manner. So do yourself (and your fence) a favor and wash your fence from time to time. It will not only look better, but ti will last longer. That is what we like to call a win-win.
Timely Repairs: Remember the old adage, "A stitch in time saves nine?" The same goes for fence repairs. Timely repairs prevent small issues from snowballing out of control. A little work now can save you a lot of work (and money) in the future.
Stain: Wood and water do not mix. This is why you need to stain your wood fence annually. Stain is your first line of defense against rain and snow.
Of course, even the bets fence will not last forever. If it is time for you to consider a new fence, give Hercules Fence of Northern Virginia a call today! We have been providing professional service and quality installation for both commercial and residential fences throughout Maryland and Northern Virginia since 1955. Hercules Fence can handle all of your fencing needs.
If you have any questions about our blog, "Extending the Life of your Wood Fence in Northern Virginia," please contact Hercules Fence of Manassas, Virginia today by calling (703)551-2609 or visiting our website. Also, check out Hercules Fence of Manassas on Facebook,Twitter, Google+ and YouTube!