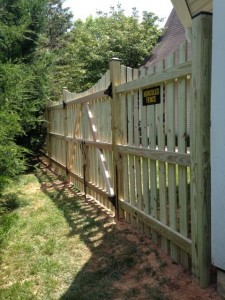 Hercules Fence is a lot of things. We are experts in residential, commercial and high-security fences.  We are the largest fencing company based in Northern Virginia. We are known for our quality work and friendly customer service.  And we are also very passionate about community service. We understand that giving back and supporting our local communities is paramount in building a better Virginia.
Hercules Fence Works with the Ronald McDonald House of Northern Virginia
This past summer, Hercules Fence was presented with an opportunity to work with Shirley Contracting's Metro Earthworks Division and the Ronald McDonald House Charities of Greater Washington DC. Hercules Fence donated a new pressure treated wood fence and gates (and installation too, of course!) to the Ronald McDonald House of Northern Virginia. The finished product looked great, but don't take our word for it. Just look at the picture to the right.
Hercules Fence Works with the Boy Scouts of America
In late 2013, Hercules Fence partnered with Ben Bieryla an Eagle Scout Candidate from Troop 52 in Front Royal, Virginia, to build an addition to the Humane Society of Warren County. Hercules Fence donated the chain link fencing, and Ben and his group did the rest. The new additions will greatly enhance the facility's ability to care for abandoned, abused, and homeless pets.
Hercules Fence is proud to have partnered with the Boy Scouts of America and the Human Society of Warren County on this important project.
With over 50 years in the fence business, we are well aware that our reputation must be earned anew every day!
Since 1955, our professional team has designed and installed fences to meet the needs of a wide array of clients: residential, commercial, and government. We pride ourselves in installing high quality fences at affordable prices.
Click Here to request a FREE quote today!
If you have any questions about Hercules Fence and our community service endeavors, please contact Hercules Fence of Manassas, Virginia by calling (703) 551-2609 or visiting our website. Also, like us on Facebook, follow us on Twitter, put us in your Google+ circle, and watch us YouTube!