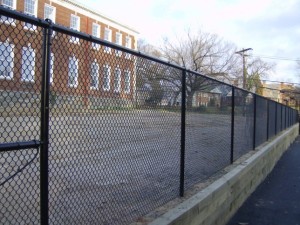 Whether a business owner or a homeowner (or both), you know the importance of security. This is especially true this time of year. While you may be off spreading Christmas joy, your home is left vulnerable. Just read last week's blog, "Holiday Crime Rates." According to the Federal Bureau of Investigation (FBI), nearly 400,000 burglaries take place in the U.S. annually between the months of November and December. That is a 51% rise in burglary crimes. So what are you doing to fight back?
We realize most homeowners and business owners are strapped for cash, especially during the holiday season. So how can you improve security without breaking the bank? Install a fence. More specifically, install a chain link fence.
Benefits of Chain Link Fences
During the holiday season, cost is always at the top of everyone's list. On top of your normal bills, you also have to worry about Christmas presents, travel expenses, etc. Because of this, there is not a lot of wiggle room in your budget. Fortunately, chain link fences are Very Affordable, perfect for the cost-conscious homeowner or business owner who doesn't want to spend an arm and a leg for a quality fence.
On top of affordability, chain link fences are also extremely Low Maintenance. Chain link fences even require less maintenance than vinyl fences. And don't get us started about wood fences. Fortunately, chain link is cheap to install and even cheaper to maintain. But there has to be a downfall, right?
When you think inexpensive, you think poor quality and weak. Chain link fences, however, are Incredibly Durable. Made from galvanized steel, these fences are made to last.
So what are you waiting for? Pick up the phone and call Hercules Fence today!
Chain Link Fences in Northern Virginia
Hercules Fence has been providing professional fence services and installation throughout Northern Virginia since 1955. We are the largest fence company based in Virginia, allowing us to buy our fencing products at a price that will afford you value to complement our quality.
Hercules Fence can handle all of your Chain Link Fencing needs. Our other residential fencing options include Custom Wood Fences, Ornamental Steel Fences, Ornamental Aluminum Fences, and PVC Vinyl Fences.
If you have any questions about Chain Link Fences in Northern Virginia, please contact Hercules Fence of Manassas, Virginia today by calling (703)551-2609 or visiting our website. Also, check out Hercules Fence of Manassas on Facebook,Twitter, Google+ and YouTube!