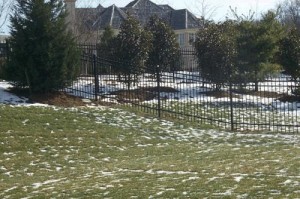 Winter is in full swing. Snow is on the ground and you are curled up in your home waiting for spring. You dare not even set foot outside, not with the temperature still around freezing. The last thing you are thinking about is your backyard. Yet winter is the perfect time to start planning your outdoor home improvement projects.
Winter Fence Installation
Winter fence installation is as easy to do in winter as it is in the summer. So why wait until spring to get your new fence? Spring tends to be a pretty busy time for most fencing companies. With such a huge demand for fences, you are more likely to pay more for installation and wait longer for it to be installed. Winter, meanwhile, is the slow time for fencing companies. You are more likely to get the fence for a better price and have it installed much quicker than if you wait a few months.
Additional benefits:
Less Disruption: Because you spend most of winter indoors, winter fence installation is less likely to disrupt your day-to-day life.
Ready for Spring: When you opt for winter fence installation, your fence will be ready on the first day of spring. If you wait until spring or summer to schedule an installation, you could find yourself without a fence for quite some time.
Winter Fence Installation from Hercules Fence of Northern Virginia
Since 1966, Hercules Fence of Northern Virginia has been providing professional fence services and installation throughout the state. We take great pride in our work and can handle all of your winter fence installation needs: Custom Wood Fences, Ornamental Steel Fences, Ornamental Aluminum Fences, PVC Vinyl Fences, Chain Link Fences, and more.
If you have any questions about Winter Fence Installation, please contact Hercules Fence of Manassas, Virginia today by calling (703)551-2609 or visiting our website. Also, check out Hercules Fence of Manassas on Facebook,Twitter, Google+ and YouTube!