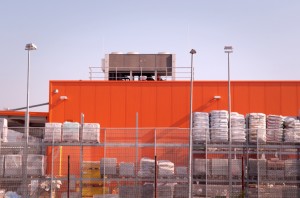 Do you run or manage a business in the industrial industry? Then it's important to get the right commercial fencing the first time around and no later. You will have many choices to decide on as commercial fencing comes in various styles, but you can make the decision easy for you by thinking a little about the business image your company wants to convey, while securing your property as much as possible. There is so much a commercial fence can do for a business, especially a company in the industrial field of work. When choosing a fence type, you will always want to choose with a purpose.
One of the most popular types of industrial fencing is the chain link fence. Industrial business owners value the chain link fence because it offers excellent security, while providing affordability and great durability over the years. When buying a chain link fencing for business purposes, have it designed with thicker gauge than a standard commercial fence and give it height. These features will provide your business a solid barrier along its perimeter. Moreover, you will have the opportunity to easily surveillance your business property of intruders as the chain link fencing will make it very difficult for intruders to hide from your sight.
Keep in mind if your industrial business is within a historical neighborhood, you may want to opt for a wrought iron fencing because most of the businesses in historical neighborhoods will have original wrought iron fences. You will want your business to fit in with the overall aesthetic of the neighborhood but still offer an unique, modern and fresh look. This is why you'll want to buy a custom wrought iron fencing if this type fencing is a requirement. As for wanting a fence that will stand the test of time, go for aluminum fencing — the powder coating of this commercial fence will guarantee your fence will not rust.
If you are indecisive, don't worry. There are many fresh and stylish commercial fencings available. Hercules Fence Northern VA can offer you a custom fence and property safety while keeping up aesthetics. We design classic chain link fencing, state-of-the-art high security fencing, ornamental fencing, commercial gates and more. Let us help you today.
Want to talk to the Northern VA custom commercial fencing experts?
Call Hercules Fence of Norfolk and Virginia Beach for your fencing needs. We have decades of experience in the fencing industry, and can offer you the best in ornamental steel, chain link, wooden fences and more. Our dedicated teams of fencing professionals are highly trained, skilled, and experienced in providing quality fence installations of any type. We'll work with you to find a fence that bests suits your needs and budget.
Contact Hercules Fence of Virginia Beach at (757) 321-6700, drop in, or contact us on our website to learn more about spring fence construction!
You can keep up to date with offers and information from Hercules Fence of Virginia Beach on Facebook, Google+,Pinterest,LinkedIn, and Twitter.