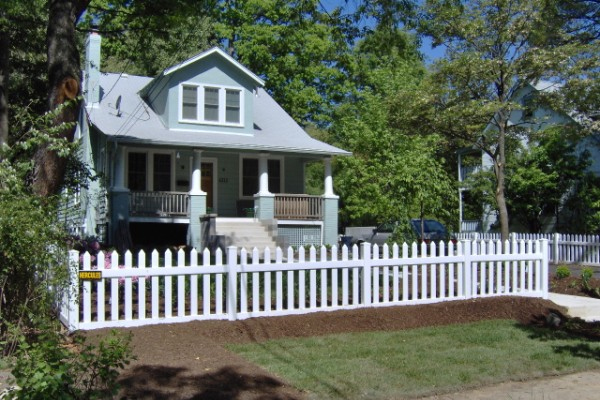 Spring is in full swing. This means homeowners are moving outside to complete those home improvement projects they have been dreaming about (or dreading) since fall. One of those projects you may be dreading is Staining a Wood Fence.
Wood fences look great. In fact, nothing even compares to the curb appeal of a freshly stained wood fence. However, unlike other fencing materials, wood requires annual maintenance, including staining. This will help protect your vulnerable wood fence from moisture, as well as keep it looking its best.
Tips for Staining a Wood Fence
Annual Inspection: Each spring, it is important to inspect your fence for any signs of damage, such as rotting. These issues need to be addressed before staining.
Assemble Equipment: Gather all of the equipment you will need to properly stain your wood fence.
Power Wash: Power wash the fence to remove any dirt and debris.
Check the Weather: Make sure there is no rain in the forecast for at least 48 hours after staining.
Test patch: Apply a test patch to ensure you will be happy with the color.
Stain: Finally, it is time to stain your wood fence. Apply the stain in the direction of the grain using short and even strokes.
Relax!
Tired of Staining a Wood Fence? Low Maintenance Vinyl Fencing
Vinyl fencing has become very popular recently and for good reason. Vinyl offers a clean appearance and long life with minimal maintenance. Best of all, you can even find vinyl fences that mimic the look of real wood. So you can kiss your staining days goodbye!
Low Maintenance Vinyl Fencing in Virginia
For more than 50 years, Hercules Fence has been providing the people of Northern Virginia with professional service and quality fence installation. We can handle any of your fencing needs, including vinyl fencing, wood fencing, and so much more! We take great pride in the wide range of fencing options we offer our residential and commercial customers.
Let us help you!
If you have any questions about Low Maintenance Vinyl Fencing, you can contact Hercules Fence of Manassas, Virginia today by calling (703)551-2609 or visiting our website. Also, check out Hercules Fence of Manassas on Facebook, Twitter, Google+ and YouTube!