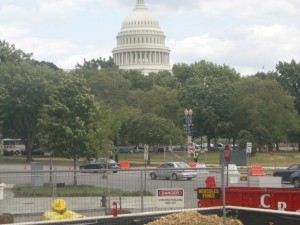 Temporary fences can come in handy for many reasons. They're good for keeping people out of an unsafe construction zones as well as to hide construction and improve the aesthetic value of an area. The great part about temporary fences is that they're, well, temporary. You don't always need a full, chain link or steel, long lasting fence for your project or home. When that's the case, Hercules of Northern Virginia can help you out with many different types of temporary fences, depending on your needs.
Hercules has worked for many different and important clients in Northern Virginia, ensuring that we've temporary fencing needs are met. Some of the fencing that they've done for these clients include plywood fencing, panel fencing, temporary chain link fencing, and windscreen fencing. Clients even include the Washington Nationals. We pride ourselves on quick and helpful service. We know that fences need to go up and come down very quickly at times. Customer service is very important to us and we will make every effort we can to meet your needs and deadlines.
Don't forget to talk to Hercules about both your temporary and permanent Northern Virginia fencing needs. We can assist with both and will be happy to recommend and install fencing for all of your commercial and residential demands.
Since 1955, Hercules Fence of Manassass, Virginia has been providing professional service and quality installation for both commercial and residential fences. We pride ourselves in installing high quality fences at affordable prices. Hercules Fence is also the largest fence company based in Virginia. So why would you call anyone else?
If you have any questions about Temporary Fencing in Northern Virginia  please contact Hercules Fence of Manassas, Virginia today by calling (703)551-2609 or visiting our website. Also, check out Hercules Fence of Manassas on Facebook,Twitter, Google+ and YouTube!