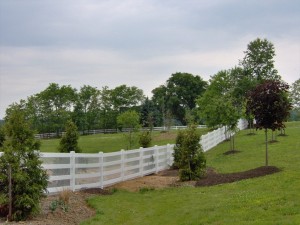 Spring is in full swing and summer is right around the corner. Now is the perfect time to address your fence. When in good shape, a fence not only adds curb appeal to your home, but also value. Additional benefits include:
Protecting your yard and your family members from wild animals.
Giving your children or grandchildren a safe place to play, far away from the street.
Added privacy is the perfect thing for you this summer, especially if you like sun bathing.
The right fence will help cut down on wind, which will make your next barbeque that much more enjoyable.
And more!
However, over time, even the best fence sustains damage. Fences don't last forever, after all. So spring is as good a time as any to make sure your fence is in good shape. First, inspect your fence and evaluate damage sustained during the harsh winter months.
Fence Posts are most often affected by rot. Worst of all, fence posts are not easy to repair.
Fence Slats are most often curved, sagging, or just falling off your fence. Some slats can be easily repaired and nailed back into place. Others can be replaced individually.
Fence Gates are often damaged at the hinges. Are you having trouble opening or closing the gate? Is it something new hinges or a little WD-40 could fix?
Once this inspection is completed, you have a very tough decision to make: Fence Repair vs. Fence Replacement.
Fence Repair: If fence damage appears cosmetic, meaning there is no apparent structural damage, a simple fence repair could be just what the doctor ordered. Cosmetic damage is easily repaired.
Fence Replacement: If the damage is more than cosmetic, fence replacement may be your best course of action. Fortunately, if the damage is contained to one specific area, you may be able to just replace a single section. However, if the damage is consistent throughout the fence or you would rather replace the entire fence for a more uniform look, Hercules Fence of Manassas, Virginia is here for you.
Hercules Fence has been providing professional fence services and installation throughout Northern Virginia since 1955. We can handle all of your residential fencing needs, from Custom Wood Fences to Ornamental Steel Fences to Ornamental Aluminum Fences to PVC Vinyl Fences to Chain Link Fences and more. We take great pride in our work. So why would you call anyone else.
If you have any questions about our blog, "Fence Repair vs. Fence Replacement," please contact Hercules Fence of Manassas, Virginia today by calling (703)551-2609 or visiting our website. Also, check out Hercules Fence of Manassas on Facebook,Twitter, Google+ and YouTube!