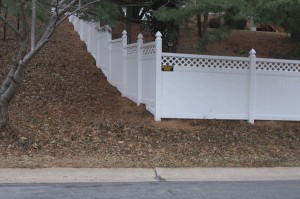 Located in Northern Virginia, Manassas is part of the Washington Metropolitan Area and home to 37,821 people (2010 Census). This represents a 7.6% growth in population since the last census in 2000. As you can clearly see, Manassas is a growing city.
As the local government puts it, "The City of Manassas is a great place to live, work, do business, raise a family, and visit!" And with more than 13,000 housing units in the city, we think people agree!
So how do you make your home stand out amongst the other 13,000? Build a New Fence!
Benefits of a New Fence
There are several reasons to construct a new fence around your Manassas home. For starters, a fence is a great way to boost the curb appeal of your home. A beautiful wood, vinyl, or aluminum fence can help set your home apart from the crowd. Another popular reason for fencing is security. A new fence will not only help deter would-be burglars, but fencing will also give your children a safe place to play. Fencing is also a great way to add more privacy to your yard. Did we also mention that a new fence is a great way to add home value? With an average return on investment between 50-75%, a new fence is a great investment.
Click Here to learn more about choosing the right residential fence.
New Fence Installation in Manassas
If you are interested in having a new fence installed in Manassas, you have come to the right place. Hercules Fence offers the buying power of the largest fence company based in the state, meaning we can buy the fence you want at a price you will love. We pride ourselves in installing high quality fences at affordable prices.
While you are here, please take a moment to browse our many residential fence options, from custom wood to ornamental steel to chain link, aluminum, and so much more!
If you have any questions about New Fence Installation in Manassas, please contact Hercules Fence of Northern Virginia today by calling (703) 551-2609 or visiting our website. Also, check out Hercules Fence of Manassas on Facebook, Twitter, Google+ and YouTube!